photogram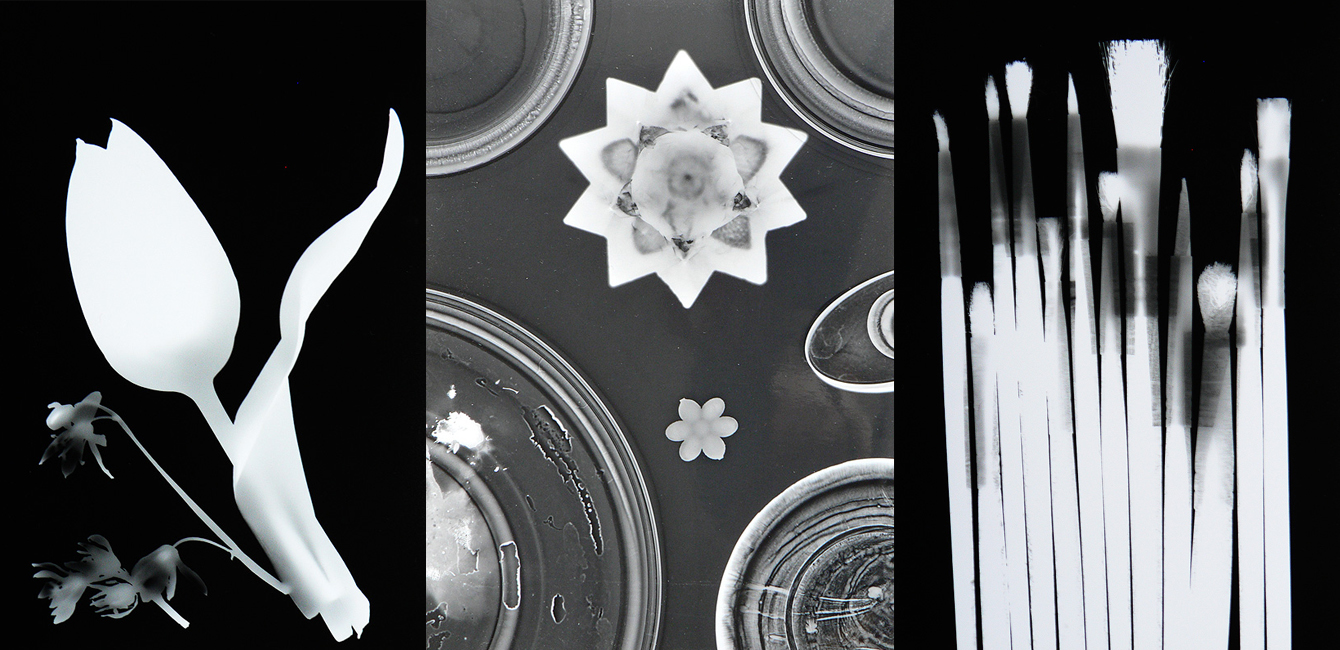 Photogram
2

go Workshop

"A photogram is a photographic image made without a camera by placing objects directly onto the surface of a photo-sensitive material such as photographic paper and then exposing it to light. The result is a negative shadow image varying in tone, depending on the transparency of the objects used."

That is what Wikipedia says. This may be true, but it also sounds a bit technical and soulless. The photogram, in our opinion, is a miracle that brings out the child in even the most serious adult. We have light, with its own mystery; we have objects which for some reason are important or special to us (the thing itself or the form, the shape of the object), and we have a blank sheet of paper. We turn off the lamp and in the dark we can work magic with these items. The possibilities are infinite–every picture is an original and unique piece of art. It is easy to learn, fun to do, and while playfully creating them, also has such educational benefits as:
Improvement of manual capabilities, handiwork skills, imagination, and knowledge of materials

Development of visualisation: visual creation, seeing in perspective, holistic thinking

Knowledge of physics, chemistry, and math within photography, interdisciplinarity application

Concentration and balance in practice, improvement in self-confidence, handling fears, reaching goals
.
Details of the workshop for schools in English
Details of the workshop for schools in German
.
The number of participants: minimum 5, maximum 10 
Age: above 10 years old
Duration of the workshop: 3-4 hours 
The language of the workshop: German and/or English
The structure of the class: Quick introduction, explanation of what a photogram is with examples, short history. Getting to know the materials and the darkroom. Dividing the participants into small groups of 2-3, planning and designing the photograms with the objects on a table outside in the light, lighting and developing in the dark, washing and checking the pictures again outside in the light. Then, finally, hanging them up to dry. Three to four repeats of the process.
Price: 40 Euros + VAT per person
email: [email protected]
Instagram: @photogram2go
Telefon: 0176 2580 2481 (in English) and 0176 4173 0103 (in German)
Location: Photolab, Simplonstr. 65, 10243 Berlin (2 min from Ostkreuz S-Bahn station), or on site with a mobile tent. In this case we will need a rather large room with tables and chairs, electricity and a nearby water supply, and there is an extra cost of a one time 50 Euros + VAT.
Vouchers / Gift cards are also available.
It would be great, if you would bring any small items that come to your mind that we could use as objects. If not, don't worry, I have many curious objects in the lab already, waiting to be lit through. The chemicals which we use are not dangerous, but they stain, so please wear clothes you don't mind becoming permanently stained in case of an accident.
Hope to see you soon!